Martinsburg, WV (July 25th, 2023)– Lambert Pool has been a part of Martinsburg's history for over 40 years, providing children and community members an opportunity to stay active and cool during the summer months. In recent years, the pool has required many costly repairs to remain open and it is at the end of its useful life. During this opening season, it was determined that the pool was unable to remain operational, even with extensive work with pool professionals and the camera scoping of all the water lines. The current pool sits atop a high-water table that presented operational issues for years and MBCPR has been advised to explore alternate solutions.
Based upon these factors, both MBCPR and City Council have explored options to provide an aquatic experience for residents. At the recent City Council meeting on July 13, Mayor Kevin Knowles and City Council members voted unanimously to authorize the city manager to negotiate and present a scope of work to City Council to develop detailed concepts and estimates for an outdoor or indoor splash pad facility to replace Lambert Pool. This scope of work will be presented at City Council's July 27, 2023, meeting.
Mayor Knowles states, "I recognize the importance of providing quality and diverse recreational opportunities at the Steve Catlett Recreational Complex (Lambert Park). I am committed to ensuring that this project is completed so that it can serve our City's youth for generations to come just as Lambert Pool has for the last 40 years."
The concept of a splash pad is to provide zero-depth aquatic activities for up to 300 users. The proposal that is being presented will have approximately 50 different elements, multiple slides at different heights, dump buckets, water jets, hose sprayers, spinners, and other fun elements. The entire area would see improvements, including shade structures, tables, games, and other recreational elements.
MBCPR believes that a splash pad will further diversify activities that are available to Martinsburg and the greater community. Executive Director, Bob Williams shares,
"There is so much excitement here because it provides an alternate solution for the facility, and it provides an opportunity for young kids and families to do something new that hasn't been available to them."
As the project continues to develop, the MBPRC and City Council will keep the community updated on its progress.
About MBCPR
To learn more about MBCPR visit, Martinsburg-Berkeley County Parks & Recreation (mbcparks-rec.org)
###
Media Contact:
Moises Mendoza
(304) 283-1774
Moises@scmarketingwv.com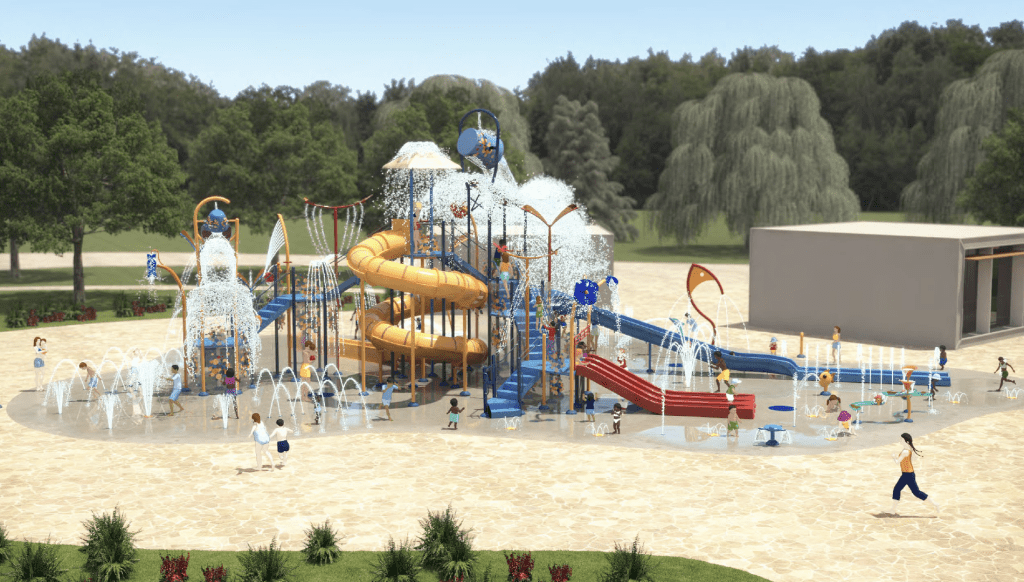 Above is a concept of the splashpad being proposed and does not represent the final design or elements.